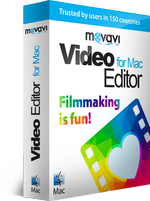 If you're new to creating and editing videos, it can sometimes feel as if you're fighting an unwinnable battle. Part of that is down to the software that you opt to use however, and how complicated it may be to edit your videos with it.
To get started on the right foot, it would be a good idea to use Movavi Video Editor for Mac right from the outset. It is a Mac movie maker that comes with an amazing selection of features encompassing practically everything you need to create great-looking videos. More importantly however, the software itself is designed from top to bottom to provide an easy and user-friendly approach that is unparalleled.
With just a few simple clicks you can apply the features of Movavi Video Editor for Mac and use them to:
Cut your video into segments so that you can extract parts of your video or delete any footage that you don't need.
Combine video clips and segments and adjust the sequence that they appear in by dragging them into place.
Insert animated transitions between video segments to connect them in stylish and artistic fashion.
Improve the quality of your videos by manually adjusting the color settings or using the automatic 'Magic Enhance' feature.
Fix common issues with video recordings such as shaky, blurry, or pixelated video footage.
Apply filters and special effects to transform and stylize the video's appearance.
Add audio tracks as background music or voiceovers and regulate the sound levels.
Place text fields within your video and customize its appearance to create unique captions, watermarks, or subtitles.
As you start to edit your videos, you'll soon find that the combination of these features really does contain all the tools that you need. At first you may want to spend some time experimenting with Movavi Video Editor for Mac and trying out the different tools in its arsenal – but it shouldn't take long for you to familiarize yourself with them. In fact, you should be able to start creating and editing videos in just a few minutes from now really.